Orientation Programme for Class I
Highly Informative Orientation Programme Held at APS, Chandimandir for Class I
A highly informative orientation programme was held for class I at APS, Chandimandir. The aim was to familiarize the parents with the curriculum, rules and regulations of the school, teaching methodologies and the co-scholastic activities. The Principal of the school, Mrs. Suman Singh explained the mission and the vision of the school in detail. She laid stress on the holistic development of the child which is the main aim and objective of the school.
Parenting tips were given by the school counselor, Mrs. Preeti Ahluwalia. She emphasized on the role of parents in helping the children understand and tackle the situations effectively as they grow.
Ms. Kiran Mankotia and Ms.Manu Tomar gave an overview of subjects taught in class I and highlighted the importance of co-scholastic activities. They explained in detail about the hands-on learning activities which not only exhibit the creative talents and energies of the children, but also help in their all-round development. They also gave in depth information about the learning parameters and stressed upon the innovative teaching and learning methodologies followed in the school.
It was an interactive session which helped the students as well as parents understand the system in a better way. Any query raised by the parents or students were also clarified during the session.
Tech Radiance 2017
The largest Annual National Championship
The competitive enthusiasts got an opportunity to participate in the largest Annual National Championship (TECH RADIANCE 2017), an initiative taken by Harbour Technologies for the young minds to show their skills and creativity in various fields of technology.
School organised a scientific workshop, to demonstrate various fields of science and potential of each, to make them realize their dreams. Mr Narendra Bhatt, a Research Engineer from Tech Radiance IIT Bombay conducted this science workshop. Various projects showcasing various verticals of scientific community were displayed. During the workshop, stress was also given on Robotics and Line Following Robot(LFR) caught the fancy of all the students. Towards the culmination of workshop, emphasis was given on microprocessors, microcontrollers and Rasberry-Pi which has recently powered the Internet of Things (IOT). The Principal, Ms Suman Singh, was gratified to see how the resource person ignited the young minds and instilled the scientific temperament within them. She thanked him and exhorted the students to walk the extra mile to accomplish their goals.
Workshop on Acupressure
Highly Informative Workshop on Acupressure Held in APS, Chandimandi
A highly informative workshop on acupressure was held in Army Public School, Chandimandir. The acupressure specialist, Mr. Ajay Chakravarty from Safal India Company discussed the benefits of acupressure technique and how every person can make it a part of their daily routine to attain a healthy and stress free life. He also gave practical presentation of various points on the palm and sole of one's feet which need to be pressed for getting rid of diseases related to different parts of the body. Overall, it was an educational workshop in which everyone learnt about some of the simplest and the most affordable ways to make one's body healthy and mind stress free.
Talk on Depression
Talk on 'Depression – Let's Talk' by Lt Col Seby in APS, Chandimandir
A talk on depression, one of the rapidly growing issues worldwide in all age groups was organized for the teachers of Army Public School, Chandimandir. The topic of the talk was 'Depression- Let's Talk' and it was presented in a highly interesting way following informative and interactive pattern by Lt Col Seby, Psychiatrist from Command hospital. Blaming depression as the main cause of increased suicidal trends in the modern generation, he spread awareness about the issue by talking about its symptoms, prevention measures and available options for treatment. Lt Col Seby also made teachers aware that depression can be completely cured with proper treatment. He suggested how a neurologist and a psychiatrist can help people suffering from such condition. He also recommended counseling sessions for people in depressed state which proves to be very helpful.
Rethink Waste
Workshop on 'Rethink Waste' held at APS, Chandimandir
A highly informative workshop on 'Rethink Waste' was held in Army Public School, Chandimandir for both students and parents. The chief guest on the day was Regional President AWWA, Mrs. Sarabjit Dhillon. The guest speaker on the day Mrs. Nita Ganguly, a reputed environmentalist, educationist and an author talked in detail about waste management and environment friendly disposal of waste. Some of the popular methods discussed by her were usage of landfills, recycling and composting. She also explained various environment friendly ways for waste disposal which can be easily followed by a common man. It was an enlightening workshop which motivated everyone to take a pledge to save environment by disposing waste in an environment friendly manner.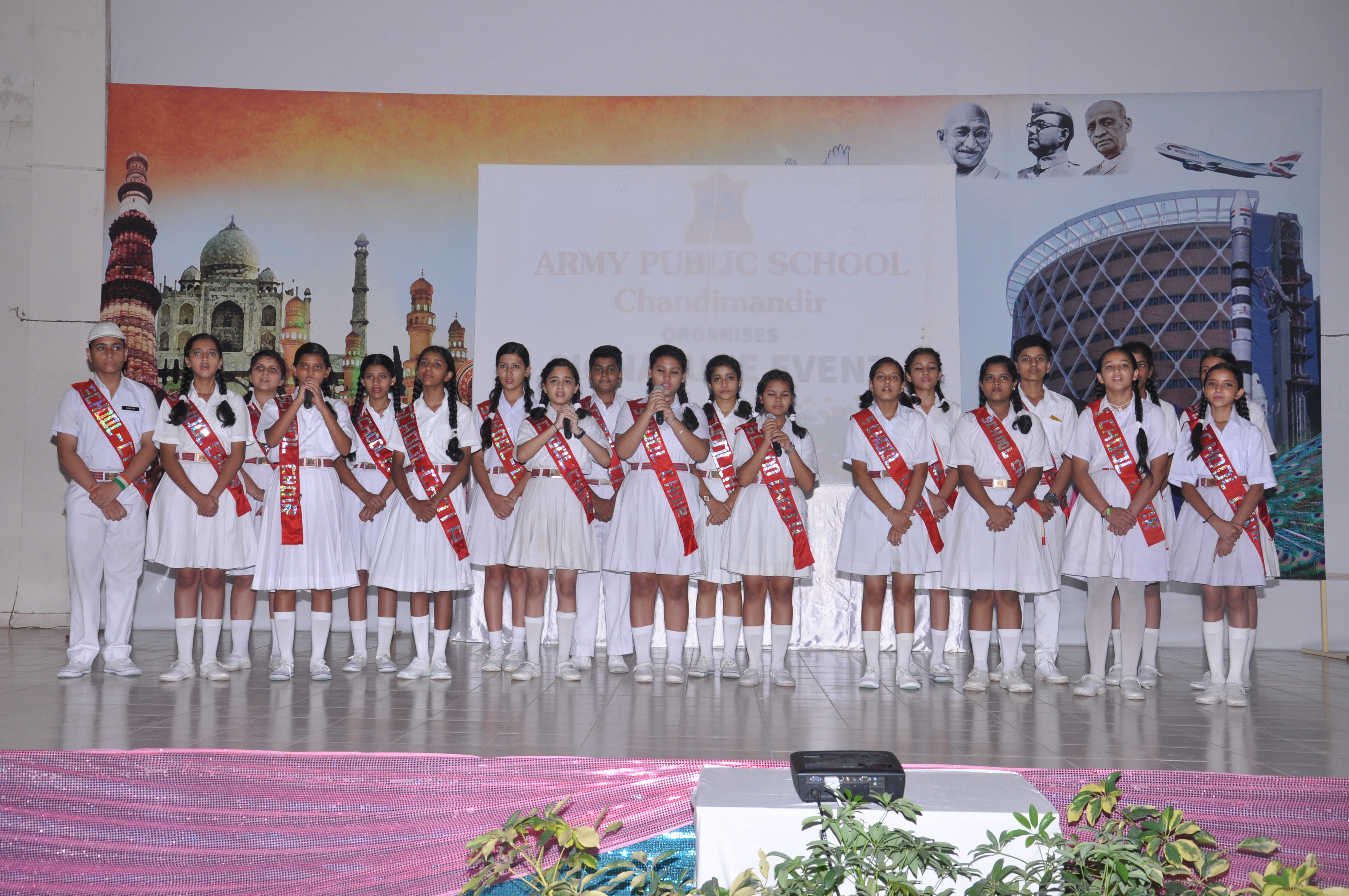 Career Fest 2017
Army Public School Organises Career Fest 2017
A highly information packed career fest was organised on a grand level for two days by Army Public School, Chandimandir for the students of classes X, XI and XII. Renowned career counsellors from various famous institutes were invited for guiding the students in choosing the right career path.
On the first day of the fest, students were given informative and interactive sessions in the field of engineering; Oil, Gas and Petroleum sector; Merchant Navy, NDA, careers abroad and Medical field. The speakers on the first day were Mr. Nabin Karki, a renowned name in the field of engineering; Dr. Rajeev Sharma, Associate Professor from University of Petroleum and Energy; Mr. SP Oberoi from Anglo Eastern Ship Management Company; Col Cheema and Mrs. Banerjee from Mentor Academy Chandigarh; Mr. Vipin Verma from IDP Education, Chandigarh and Professor Arun Sharma from Allen Institute, Panchkula. On the second day, sessions were held on making careers in service sector, animation, law, management and accountancy. The speakers on the second day were Mr. Aman Sharma, Managing Director ITFT College, Chandigarh; Mr. Deepak Kumar and Mr. Sandeep Sahota from Maya Academy, Chandigarh; Mr. Anshul from Career Launcher, Panchkula; Mrs. Guneet Singh from Bulls Eye, Panchkula and Mr. Baltej Singh from SD College, Chandigarh.
Service Training
In-Service Training Programs for Teachers Conducted at APS, Chandimandir
As part of in-service training program for teachers organized by Army Public School, Chandimandir between 25th of June to 30th of June, teachers were trained in various skills and also became a part of some valuable presentations on informative topics. The important sessions conducted during the training included session on Yoga, Aerobics, Teaching through Story Telling, Positive Psychology, Remodelled Assessment, Cyber Security, Language and Literature, Writing Skills, Calligraphy and PEC India Programme. Army Public School, Chandimandir organizes in-service training sessions for its teachers every year in order to make the teachers acquainted with the latest technologies and make the teaching learning process more interactive.